Brunswick
Update 31.05.2023:
And here is Brunswick, a charming and adorable black dog who is just six months old. This playful pup is brimming with energy and enthusiasm, ready to capture your heart with his irresistible charm. With his glossy black fur and a touch of cuteness with hair on his snout, Brunswick is truly a sight to behold.
Despite his tender age, Brunswick is already a social butterfly. He has been well socialized from a young age, making him an excellent companion for individuals and families alike.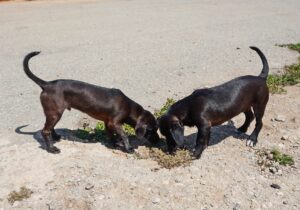 His story:
We are excited to introduce Brunswick, a cute black puppy who is currently looking for his forever home at our shelter. Brunswick is a boy and was born on December 5th, 2022, along with his siblings Lennox, Byron, Yamba, and Cabarita. They were all left at our shelter in a box.
Despite being so young, Brunswick has a wonderful personality that shines through. He is a curious and playful puppy who loves to explore his surroundings and play with his siblings. Brunswick has a shiny black coat and a charming personality that will melt your heart.
Unfortunately, we have noticed that black dogs like Brunswick often stay the longest at the shelter, as many people shy away from adopting them. We don't understand why this is, as black dogs are just as loving and deserving of a forever home as any other dog. Brunswick is no exception, and he deserves to find a loving family who will give him the care and attention he needs.
Brunswick is still a young puppy, and he will require plenty of love, patience, and training to grow into a well-behaved and happy dog. He loves to play and he's always up for a good snuggle. With a little time and attention, Brunswick will be a loyal and loving companion for many years to come.