Meet The Team
The Staff (to be continued…)
Elizabeth :
Founder and Director of The Souda Shelter Project.
Person of the earth.
Here to help but NOT to be taken advantage of.
Loyal. Loving. Fierce. Delicate.
Nikos:
We are very fortunate to have a person like Nikos. He is a very special individual.
I had asked him to join our team for years. You see, Nikos has ALWAYS been saving animals, helping them, feeding them.
ALWAYS.
Nikos not only respects our domesticated pets, Nikos is a strict vegan. And when I say strict, I mean strict.
Nikos is the guy who when you call him, no matter what the time, if an animal is in trouble, he will be there without a peep of complaint to get the job done.
I won't say any more, it is visible when you visit.
The animals love him.
That's our Nikos.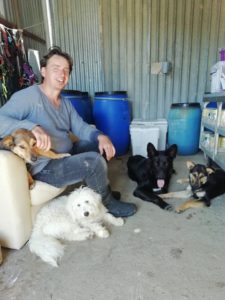 Nikos with Takis, Feta, Boomer and Litsa. They love him!
Litsa:
Mama bear. Worry wart. Peaceful, gentle soul. Litsa joined us a few years ago and the animals changed from the day they became accustomed to her. Litsa runs the daily routine, keeps all the animals records in order, makes sure everyone is happy and FED! She takes care to see them off to the vet and to the airport but prefers to be the housecat. She is a special person and we are so grateful for her presence in our space, everyday.
Tatyana:
Tatyana is a methodical, scientific mind who comes to us from Russia. Tatyana, analyzes, studies, trains and puts the shelter back on its tracks every time. Tatyana worked with animals from a small child, collecting strays and training them. From the time they were larger than her. Tatyana is the go to girl when Elizabeth is out of town, or out of commission. She trains the volunteers and goes on special missions when needed. Souda thrives with Tatyana.
Amelie:
Amelie: Amelie had come to us a few years back to volunteer from Germany. She loved us and returned to volunteer again. We loved her and with a joint appreciation, Amelie packed her bags and is living in Greece, with us, working daily. Literally daily. If she's not cleaning and hugging, she is taking animals to the vet or the airport. If she's not doing that, she's taking photographs….exceptional ones like the ones you see here on this site. And when she's home resting, she still isn't resting, she's always thinking, fixing doing, for Souda Shelter. We're so fortunate to have this angel.
Volunteers:
Steve:
Steve lives on Crete and regularly donates his time to repair the shelter. Gates, fences, everything needs to be fixed. And he does that in the cold in winter or in the heat in summer!