Emergencies & Addresses
Many people, especially tourists, write to the shelter that they found a dog or a cat and they want to help the animal.
Is it well fed? Does it look fine?
Great, maybe an animal in need but no emergency. It might be owned or well-know and fed by someone; but it also might be in danger of being run over by a car or being poisoned. If you have time, ask people living nearby. They will know if the dog is from that area, who the owner is or if it is new and either ran away or was abandoned.
There is a poor dog on a leash…
The chain should be about 6 m long and a dog house, food and water should be provided. It is not allowed to keep a dog for 24 hours on this leash without a daily walk. Call the police if there is no owner in sight. Anonymous complaints to the police are possible. The police is asked to take complaints seriously.
Read here: Article about Barrel dogs and how to help the dogs 
Does it look ill or is it hurt?
If possible, take it to the vet. It would be greatly appreciated if you pay for the treatment.
Vets in the Souda and Chania area:
Xanthoulakis, Haralambos, & Co O.E. : +30 2821 075665
Virginia Theodoroglaki: +30 693 238 5788
George Vizyrakis in Souda +30 2821 023505
Maria Kampouraki in Chania +30 2821 042920
Animalia Veterinary Clinic – Ioannis Markantonakis          +30 28210 73375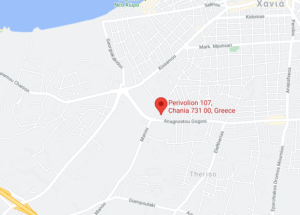 How do I transport the animal?
Either you can use a special taxi service or you can buy a travel crate.
Pet shops to buy travel crates, food etc.:
Pet Shop Boy: +30 2821 089336
What happens to the animal after I take it to the vet?
You can try to contact the Souda Shelter to see if there is room.  If you want to take your animal back to your country, be clear about this to the shelter, and we will discuss the costs with you.