Pepper (adopted)
Update:
Remember Pepper?
Shorty, homeless hound mix who dangerously wandered the streets of Souda.
He is now living in the North of Germany.
He has a family, he has a home, a warm bed AND he has his own backyard with fresh green grass.
Life is good!
His story:
Pepper was a stray in Souda.
He was known by everyone with his shorty legs and his adorable fatty sausage body. Everyone fed him and everyone smiled as he walked by.
But that did not keep him safe.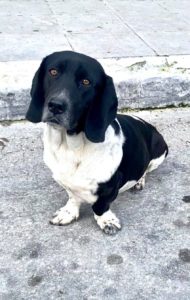 He walked in and out of traffic and parked cars. You really could not see him because he is so short.
I witnessed a motorcycle almost crash because they saw him last minute.
Souda also has the dark past of poisonings. The most recent was last month. Dogs and cats so brutally killed.
We could not stand to see him walking the streets at the mercy of whomever.
This weekend he joined our family.
Pepper, who was very untouchable on the streets is now a snugglebunny in our care! He will settle in and then we will start with his vaccinations, castration, bloodwork etc.
Stay tuned.