Jeni (passed away)
Update 21.12.2021:
Our earth angel, Jeni, has left us.
Words cannot express the weight of our sadness.
We had to let her go, to be free from pain.
Jeni came to us emaciated, shot in the knee, leishmania ridden and in the beginning stages of kidney failure. But that did not dampen her spirit.
This extraordinary little girl loved life and everyone involved. She brought joy to us and to her fellow doggies at the shelter.
Her last days were spent graciously in a warm home filled with love and attention.
So very generously that same home allowed her to be buried there too.
Thank you Jeni.
Thank you for bringing happiness to everything and everyone in your path.
Your absence will be felt by all
Her story:
Update 10.9.2021:
Her story:
Lady Jenn, as Litsa likes to call her wears a coat everyday and she loves it.
We started her on vitamins and gave her a coat because we cannot get any weight on her and she's always shivering.
She has seen the vet and has been diagnosed with
Leishmania
.
We do what we can folks!
You do your part…take her home and give her a warm pillow and peace.
She's so beautiful and grateful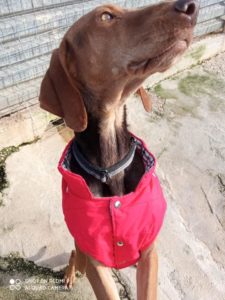 Jeni has been shot.
Jeni has been bred.
Jeni was never protected from Leishmania.
Jeni is severly malnourished.
Jeni suffers from a painful leg injury.
Jeni is now in our care.
Soon the past will fade away, her health will be restored, her pain will subside and her hunger will diminish.
All with the efforts of our team.
All with the help of our donators.
All with the love you have for our cause.
Be a part of our project.