Aston (adopted)
Update on 23.4.2023:
Aston is a friendly and playful pup who loves to run around and play with his toys. We recently took some new photos of Aston, which show off his beautiful coat and charming personality.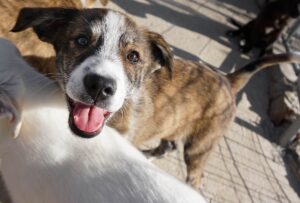 His story:
Meet Aston, the handsome and charming puppy with a brown and white coat that's sure to turn heads! Born in December 2022, Aston is the adored brother of Porsche, Mercedes, Chevy, Lexus, and Peugeot. With his soulful brown eyes and unique coloring, Aston is a true standout.
Aston is a friendly and outgoing puppy who loves meeting new people and making new friends. He's playful and energetic, always up for a game of tug-of-war or a run in the park. His intelligence and eagerness to please make him a quick learner when it comes to training.
Despite his many wonderful qualities, Aston is still waiting for his forever home. If you're looking for a loyal and loving companion, Aston may be the perfect match for you. Come and meet him today at the shelter and see for yourself what a wonderful addition he could be to your family.