Aidan (adopted)
Update 3.4.2022:
Another happy rehoming!
Ava flew in from Germany to pick up her baby direct!
Good luck and good life to you both Ava and Aidan
Join our family!
Adopt today
Update 17.1.2022:
Why does nobody want this extremely cute boy? Yes, he's black but very handsome and won't be big.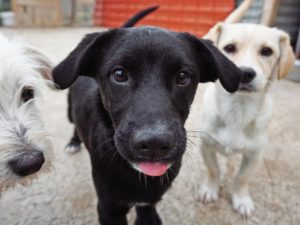 Aidan is a boy and one of the Elafonissi puppies: click here
The brothers Aidan and Shane will stay short, Adam will be medium sized.
Here how they arrived at the shelter: click here
They were  born in August 2021.