Molly (passed away)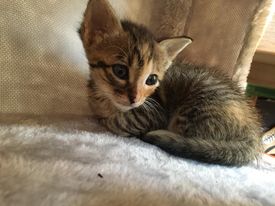 Name: Molly
Date of Birth: September 2021
female
Neutered: no
Cat House: Carole Cats
Molly, she is 9 weeks old, just had her first vaccine.
Got her at a week old from some french tourists and has been hand raised with a bottle.
So she is very friendly and has a wonderful personality!
She used to sleep in with the puppies. Thus she  loves dogs and loves to sit on your shoulder, thinks she is a parot!