Mary (adopted) with her two babies (Snow White and Huntsman)
Update 6.12.2021:
Mary, a stunning beauty and a great mum. Mary is a beautiful Cretan hound and she came to the shelter totally underweight together with the two babies of her litter that managed to survive the horrible conditions they were forced to live in.
Considering her bad past you might expect something else, but she´s just a super playful, uncomplicated, young girl who adores humans and loves other dogs. Mary´s new home needs to be escape-proof, because she can easily jump – no FLY – over any fence!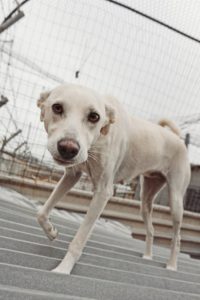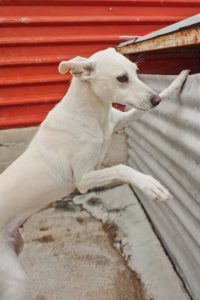 Mary was born in February 2020.
Update 18.22.2021:
Her babies: Snow White and Huntsman
Update 11.11.2021:
Remember the starved mom and babies we took in?
She's looking more and more beautiful every day!
Little bit of love and respect go a long way
Be a part of our project.
Adopt. Donate. Share.
Her story:
Poor Mary!
Mom and babies are here.
Only two babies of five.
With the mom being tied, the babies wandered away, eyes still shut.
The mom could not retrieve them and heard them slowly die of starvation.
COULD YOU IMAGINE HER ANXIETY?!
We will do our very best to make her stay with us as comfortable as possible.
Poor girl.
We have named her Mary.
Waiting for the mom in this photo.
Extreme neglect. Five babies.
Three seem to be visible, alive.
She will be coming to us in the next day.
My God.
How can you look at this animal, regardless of if you like it or not and not understand it's pain and suffering?
Please Understand that taking on a mom and babies is very costly for us.
High quality puppy food. Is needed to get the animals back on their feet.
This is including the mom.
She will have puppy food as well because it is high in calories and rich in nutrients.
Please donate.