Otto (adopted)
Update 26.1.2022:
Schöne Nachrichten vom schönen Otto
Der erste gemeinsame Monat mit Otto ist um und wir wollten uns einmal mit ein paar Fotos bei euch melden.
Otto geht es prima. Er blüht in seiner Roller als neuer Familienhund, an der Seite von unserer Neele, total auf.
Er ist unglaublich verschmust und aktiv. Er möchte immer alles richtig machen und lernt neue Dinge sehr schnell.
Bei den Pferden im Stall ist er nun auch regelmäßig dabei. Das erfordert noch etwas Zeit und Geduld weil Otto doch sehr großen Respekt vor den Pferden hat. Wir üben fleißig weiter, dass auch das bald zu unserer ganz normalen Routine gehört.
Wir sind überglücklich mit Otto und möchten uns nochmal ganz herzlich bei euch bedanken, das er Dank euch den Weg zu uns gefunden hat.
Ganz liebe Grüße von Bodensee von Familie Gonsowski
Update 22.12.2021:
Otto now lives in Germany.
Update:
25.4.2021
Otto is an adorable, friendly, playful young dog.
He, a handsome boy, was born in November 2020.
He  is  going to be superb family dog.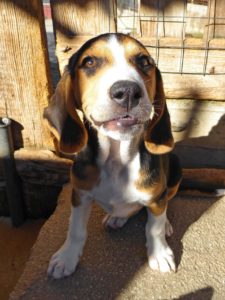 They were found at a church last month, one dead.
Our foster took them in and has raised them into beautiful little beings.
This is them at the vet for their first shot.