Hayden (adopted)
Update:
Hayden had a haircut. He is a small dog.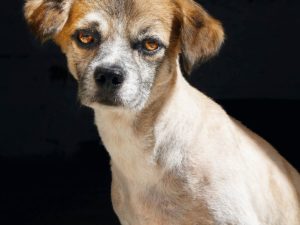 Isn't he pretty?
His story: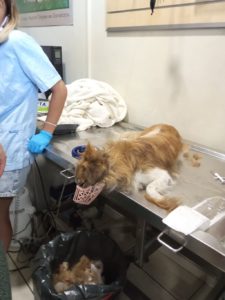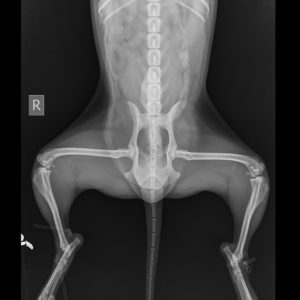 The beach dogs of Nea Chora.
Caught the other day by our caretaker Nikos and our annual volunteer (and the person who requested this to happen), Tom Sawyer.
Both dogs, Hayden and Bentley, as we named them, were clinically examined yesterday.
Bloods were taken: general, biochemical, Leishmania and erlichia tests were done. Animals levels are well considering their lifestyle for so long. Some pinched levels but should flatten out over time and good food and treatment.
Anti-parasite, microchips and vaccinations given.
Sedation, x-rays and haircut for Hayden. Hayden's x-rays showed he has loose knees. Probably genetic but causing difficulties as of lately (limping).
Bentley at the groomer's today. A pure gentleman, no muzzle.
Big accomplishment these two, we will KEEP them.
We cannot see them back out on the street with no one to ACTUALLY care for them.
Winter is coming, they are getting older.
That part of their lives is over.
Neighbors and tourists who know them and who miss them and love them and want them back are more than welcome to come and adopt them legally with microchip and obligations.
Till then, they are up for adoption.
If you would like to donate for this cause, please do. This allows us to take the next "Hayden and Bentley" off the streets and finally give them the respect they deserve.
For donation information see the "about" at the top of the page or check us out at
www.soudashelter.org
We'll keep you posted on these two gangsters….stay tuned!