Ivy
Ivy being socialized by the staff.
She is not aggressive with other dogs she is just over excited and lunges forward with force to greet.
Amelie
, with pointers from
Nikolaos
is slowly socializing her with the dogs of the shelter to hopefully desensitize her overeagerness to meet new dogs.
Her face says it all…
Love her to the moon and back
Her story:
Ivy is young. Brian and Ivy are friendly with the people. 
"You can't honestly be scared of bullies (pitbulls, staffies, mastiffs, pressas, etc.). We are of the most obedient, human loving creatures on the planet.
And we're so darn cute."
Ivy, female, neutered, healthy, bully mix 2 years old, up for adoption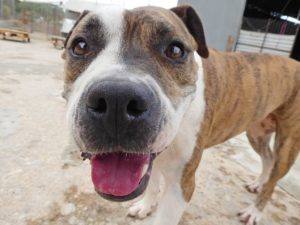 https://www.facebook.com/groups/638772982948839/
Her story:
This morning these two staffies were left tied up to our neighbor's fence. Dirty and neglected, these animals cannot tell us their past but it doesn't seem like a good one.