Ivy
Update 14.02.2022:
"Hello and happy Valentine's Day to everyone!
I'm the gorgeous IVY and I'm looking for a family of my own with people that can provide the following:
Love.
Calm.
Understanding.
Consistency.
If you lack in any of the above, unfortunately, I'm not the right dog for you, but maybe you know someone who knows someone, so please go on reading and share! Thank you!
On one could rainy winter morning in January 2020 I was tied to the fence next to the Souda Shelter together with my buddy Brian. I'm a Pitbull mix and approximately 4 years old, neutered, and about 23,5kg.
l'll get to the point straight away: I have a little problem. I have a huge prey drive and therefore do not get along with small, fast moving, furry things like cats, rabbits, chicken etc., but also timid dogs or weird puppy behavior can trigger me
Outdoors, I'm always looking for the next thing to happen and I'm focusing on my environment way too much.
BUT a couple of weeks back this weird caretaker Amelie decided to work with me in her free time, because for some reason I seem to have touched her heart very deeply and she promised me to do everything she can to offer me a real chance to find my own family. (What a softy, ey?
)
With the help of
Dogtrainer Chaniacrete
we started working on some of my issues. In the beginning I had zero impulse control, they say, but I already made great progress, they say as well!
Will I ever be able to live with cats or any alike? NO, but I can learn to stay calm and handle myself better in situations where I can't avoid them.
With the right person at my side, I know I can do it!
Wow, you are still here? You are still reading this?
Then you deserve to hear all the great stuff about me, too, and there is plenty!
You see, I'm actually pretty awesome. First of all, in an environment where I'm calm and I feel save I'm an absolutely wonderful and easy going dog.
I'm a very clean girl and like to pee and poop outside. I'm not a barker.
I like to go on car rides and I don't get car sick. I know basic commands and how to walk on a leash. I'm quite food motivated what makes training with me fun and easy.
Also, I have never shown any signs of aggression towards any human.
Well, I think, it's just not in me, you know. No matter how anxious and how excited I can get about something sometimes, I never go against my person or others.
Joggers. Kids. Yoga people. Reckless mountain bikers almost running us over? – That's okay
Meeting new people? – I love meeting new people. The more the better!
Going to the vet? An injection? – No, problem for me! Our vets love me, but I love them more!
In fact, I like people so much I wish I could be with them all the time! I love to cuddle in your lap (though I´m a little too big to be a lap dog
), rolling around on my back to get some belly rubs and to give you loads of slobbery kisses all over your cute face
I also love water and I'd never miss a chance to take a refreshing dip into the sea. Let's go to the beach together!
My prey drive has been misunderstood in the past as aggression towards other dogs, but that's not the case. I'm quite dominant, but I don't have a problem with other dogs in general as long as they have a certain attitude and as long as I'm introduced to them in a proper way.
Going on walks with other dogs is not a problem and meeting dogs outside that I don't know already works well in many, many cases.
Hectic barking, fast movements, cats and alike still trigger me, but by now I have learned well to sit out situations I'm not comfortable with and with every situation I master well I'm getting a bit calmer and a bit more confident.
Of course, I will need more time, but you have to understand, I didn't know all those things in the past, nobody gave me the chance to learn how to behave in the right way, instead I was abandoned in deepest winter by my human whom I loved more than anything else and I was thrown at the mercy of some people that fortunately cared enough not to leave us out there in the cold to die.
You know, I like the people at the shelter. They are nice and I'm grateful to them. They give me cuddles and hugs and toys and treats, but I don't like the shelter at all. So many dogs, so much noise. You might not think so, because I'm always playing the tough girl, but I'm very sensitive and the shelter makes me so anxious and very sad
I don't bark much, but sometimes I cry. I sit in my kennel and I cry hoping someday somebody can hear me and comes to take me home even though I'm not perfect.
Maybe you are this someone?
Maybe you are my Valentine?
Much Love and slobbery kisses to all of you
Ivy
"
Breeds like Ivy are always in great danger of being put down with only the slightest incident. Therefore, as much as we all wish for her to leave the shelter tomorrow, she can only go to an experienced and responsible owner. I'm not a great fan of the word "experienced" though, because it can mean everything and nothing. I'd rather like to exchange it with the word "understanding". The understanding of what exactly it takes to provide the right environment for Ivy.
Most of Ivy's "issues" are caused by a great amount of anxiety she has inside. Her human needs to take this anxiety from her step by step by staying calm in situations Ivy can't stay calm yet. Ivy needs a loving, but constant and consequent leadership at all times. Then she will be able to show what an incredible animal she is in no time.
To whoever read this until the end, thank you!
I will post more of Ivy in the following weeks, but I wanted to do one post that I can refer to later.
I know somewhere out there has to be the right person for Ivy, so please let´s find this person together!
Update 1.2.2022:
Update 5.1.2022:
WALK YOUR DOG- and learn.
Amelie is walking Ivy, a dog living in the Souda Shelter, in her leisure time.
The task is to teach Ivy impulse control.
She wants to get everything that s small and moves. Especially cats.
You can see her anxious, wining, imploding, looking around.
She met many cats on this walk and they are still on her mind.
The alternative behaviour she should learn is to sit and not to get up unless Amelie says ok.
Ivy is a very sweet loving dog.
Maybe there is a chance for her to be adopted?
Bravo Amelie for trying so hard!
Update 4.7.2021:
Ivy was born in 2018.
She is now being socialized by the staff.
She is not aggressive with other dogs she is just over excited and lunges forward with force to greet.
Amelie
, with pointers from
Nikolaos
is slowly socializing her with the dogs of the shelter to hopefully desensitize her overeagerness to meet new dogs.
Her face says it all…
Love her to the moon and back
Her story:
Ivy is young. Brian and Ivy are friendly with the people. 
"You can't honestly be scared of bullies (pitbulls, staffies, mastiffs, pressas, etc.). We are of the most obedient, human loving creatures on the planet.
And we're so darn cute."
Ivy, female, neutered, healthy, bully mix 2 years old, up for adoption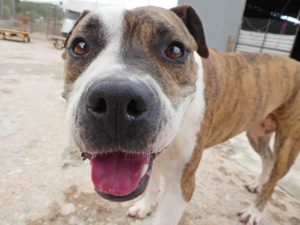 https://www.facebook.com/groups/638772982948839/
Her story:
This morning these two staffies were left tied up to our neighbor's fence. Dirty and neglected, these animals cannot tell us their past but it doesn't seem like a good one.