Clara (adopted)
Clara went home and is now living in Germany.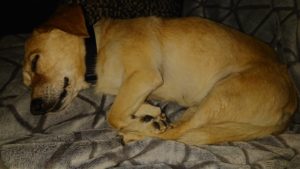 Her new owner writes: I am sure I have a lot of fun with this old Lady ❤️ She is already chasing me at every turn ? She is really cute…
Clara is already snorring and wishes you a good night ❤️
Hi my friends, it's me Clara
?
I've been here for a few days now and I'm fine and I'm happy.
My mom says, so I should like to thank everyone who made my new life possible.
So, many thanks to the students of the University of Chania who didn't look away and who helped me so much and saved my life last year
?
Elizabeth, who gave everything for me so that I was well looked after the attack. This gave me the chance to recover from my injuries and find a new home. For that I love you
as long as I live

?
My dearest carers, friends and can openers, Litsa, Nikos and Jamie you are the best and I will never forget you. I love you so much
?
But also you, dear friends out there, who support Elizabeth and the team with donations, without you all of this would be difficult. Therefore a big thank you to you and keep up the good work, especially at this time
?
Elizabeth needs your help, so donate, adopt, share!
Thank you so much for your effort and love, I will never forget that and a big hug from my new mom Ute.
Yours Clara, aka Speedy Gonzales
?
Here a few photos from me. I already learned sit and wait
?
On Friday evening, at 11:30pm I received a phone call from some students at the Polytechnical University of Crete, Chania campus. A dog had been severly attacked by a pack of dogs. It was down and irresponsive, crying frantically.
I let the students know that I would contact the vet that I work with and get them a pet taxi to pick up the animal.
And of course we will handle all med charges.
I can only do this with help from YOU.
Please, donate, facilitate emergency responses.
Otherwise I will not be able to accept such calls. The dog is now in foster with severe traumas to throat and torso. Hopefully the animal will recover.
She is a senior dog.
On a side note: The Polytechnic University of Crete, in Chania, is constantly plagued by strays, pups, kitties. The board of the University persistently makes complaints to the Municipality to do something about the problem. The animals are in the schools, dorms, cafeterias, etc. The latest action of the Polytechnic University was to threaten students that they will be evicted from their dorm rooms if found feeding, taking care of animals. Thumbs down.
Update on Clara, our senior girl, Polytechnical University case:
Clara, as you remember was viciously attacked by a pack of dogs.
Yesterday she checked in at the vet office to see the conditions of her wounds.
We believe, with fingers crossed, that Clara will make it without infection.
We would like to ask everyone to please share Clara story in the hopes that she will find a home and not have to return to the streets.
Please consider her for your own.
She is a tiny senior which means the impact of her presence on your home will be minimal but the impact of her presence on your heart will be maximal.