Yuri (adopted)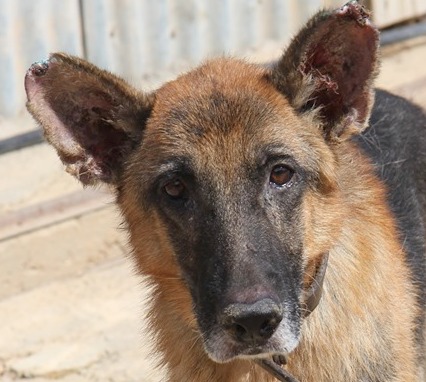 Update:
A year ago today our Yuri went to his home in England.
He joined an amazing family with a superb mom named
Nicola
I am ecstatic for Yuri.
He is living a happy, healthy life. Thomas, his bro, is always by his side. When Yuri had come to us he was in such poor shape I had never fathomed he would be adopted. And then he was.
And I thank him for bringing the Souda Shelter and the Julian family together.
To many more years dear Yuri, with your family who loves you
Yuri in the garden.  (November 2020)
Yuri arrived in England.
His story:
In one day Thomas' dog will arrive in England from us, The Souda Shelter Project. (Thomas is the son of the family.)
His family has chosen our Yuri.
His momma just sent me this:
"Thomas has been saving his pennies to buy a Lego toy but yesterday asked to go to the shops as HE wanted to buy something for Yuri.
He decided on an early Christmas present and a Frisbee for them to play together.
He told me that he couldn't do his maths at school on Friday because he was thinking about Yuri ?and he came running into our bedroom this morning to tell us he'd dreamt about him last night ? He's also assigned Yuri's treats as to how many each of us can give -basically me & Frankie occasionally & him whenever he wants. He's definitely excited x"
Oh Yuri! Finally the adoration you deserve!❤️
Welcome to the Souda Shelter family, Thomas!
Yuri's story:
Our friend Brian just showed up at the shelter with this old, scared, malnourished GSD. The animal was running frantic on the national highway. Brian has four dogs, his lady has two, we have 100 and 2.
But we can't see him go back out on the street. And this is where he will go.
Right now Brian is at the doctor's office getting the animal checked out.
Update after the vet: Just a quick line he is not old just been illtreated. George reckons about 4 yrs old lovely natured male german shepherd
PLEASE SOMEONE TAKE THIS ANIMAL IN.
IT IS A SHAME. HE NEEDS SOMEONE.
HE IS ALONE AND SCARED BUT IN NO WAY DANGEROUS.