Miki – The Therapy Dog (adopted)
Gender: Male
Birthday: October 2018
Breed: Pointer mix
Neutered: No
Color: Black and white
Size: Medium
Description: Eric, Hannah & Melody, these 3 pointer puppy siblings are very close, playing & sleeping together. They are gentle & playful & they settle down easily. These are 3 smart, calm, lovely dogs. Will be a wonderful addition to a family
Update: If a home is found on Crete, Miki will become a therapy dog:
"Meet Miki.
Handsome, loving Miki is a very special animal. Miki was chosen, because of his calm and intelligent demeanor, to be trained as a therapy animal.
Miki is trained by Dogtrainer Chaniacrete and staff here at the shelter.
Miki's first project will be the day care for disabled children of Chania, ΚΗΦΑΑΜΕΑ "Η Στοργή".
Last year in April, we brought a former Chania stray back to Chania to visit this center, now licensed as a therapy dog. The visit was so very pleasurable that afterwards, the director of the center, Ms. Niki Velegraki asked to have a dog of their own. (see announcements)
Our plan is to have Miki visit several times a week, with a member of our staff and stay for some hours of their day.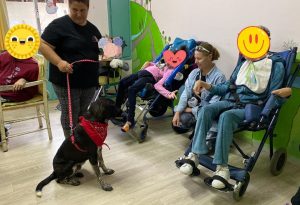 This is a very huge step in integrating animals into serious areas of life such as therapy. Hopefully dogs like Miki will change the attitude of "just a dog".
If you are interested in helping us achieve this goal, contact me. Thank you.
We are so very proud of this.
We will keep you updated.
Be a part of our project.
Adopt. Donate. Share.
The Souda Shelter Project ❤️"