Salem (adopted)
Gender: Male
Birthday: January 2014
Breed: Mix
Castrated:  Yes
Color: Brown
Size: Medium
Update 17.6.2021
Recognize that face?
If you've ever visited us, ever, you met him. He's been at the shelter forever.
He's Salem.
He's been with us for a very, very long time.
Guess where this photo is.
It's in Apokoronas.
Salem is finally
h
o
m
e
Αναγνωρίζετε αυτό το πρόσωπο;
Αν μας έχετε επισκεφτεί ποτέ, τον έχετε γνωρίσει. Έμενε στο καταφύγιο για πολλά χρόνια.
Είναι ο Σάλεμ.
Ήταν μαζί μας για πολύ, πολύ καιρό.
Μαντέψτε πού είναι αυτή η φωτογραφία.
Είναι στον Αποκόρωνα.
Ο Salem είναι επιτέλους σπίτι του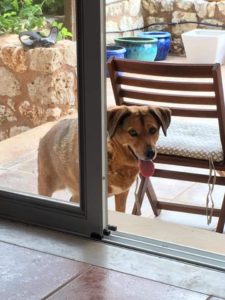 His story:
Description: 
Salem is a teddy bear soul in an adults dog body. He's a shy dog but give him time and much love he can be the tenderest dog of the world!  His eyes look deeply into your heart. He loves food and he loves playing with other dogs (especially Penelope and Arzana ).His heart is as big as his body! Beautiful Salem!