Bronx (adopted)
Meet Bronx, an adorable male puppy with a short, light brown coat, born in April 2023. Alongside his brother Brooklyn, they were found near a dumpster, looking for a loving home. Brooklyn is a bundle of cuteness, full of energy and curiosity, ready to explore the world with his wagging tail and playful spirit.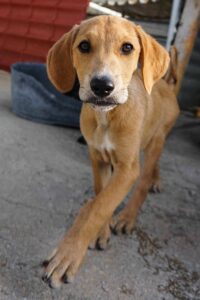 Despite their rough start in life, these brothers have hearts filled with love and resilience. Bronx is the kind of puppy who will steal your heart with his soulful eyes and infectious joy.
Brooklyn and Bronx have an unbreakable bond, always seeking each other's company for comfort and play. They are a dynamic duo, bringing endless laughter and warmth to any home lucky enough to welcome them. They love playing with the other puppies.
If you're searching for a loyal companion, Bronx is the perfect match. He's eager to learn and will gladly shower you with puppy kisses. With a patient and loving family, Bronx will thrive, growing into a loyal and devoted friend for life.
Don't miss out on the opportunity to give Bronx the loving home he deserves. Open your heart and home to this charming little pup, and you'll be rewarded with a lifetime of unconditional love and countless happy memories.
This is how they were found:

See a video: