Till (adopted)
🐾 Meet Adorable Till! 🐶
Are you looking for the perfect furry companion? Look no further than Till, an absolutely charming little puppy born in January 2023. With his short, brown coat and irresistible cuteness, Till is sure to melt hearts wherever he goes!
Till is a lovable little boy who will bring joy and happiness into your life. He and his brother and sister Trudi and Knut were abandoned – see below). Just imagine the fun and adventures they can have together!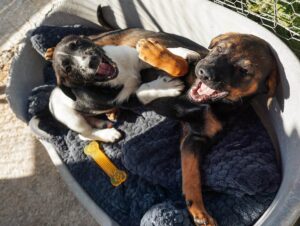 This little bundle of joy is not only incredibly cute but also full of personality. Till has a friendly and playful nature that will brighten up your days. Whether it's playing fetch in the park, going for long walks, or simply cuddling up on the couch, Till will be your loyal and devoted companion.
Till's charming appearance and warm personality make him the perfect addition to any family. Don't miss the opportunity to bring home this adorable puppy who is bound to steal hearts. Till will not only be a loving pet but also a true friend for life. So, if you're ready to add some extra happiness to your days, consider giving Till a loving forever home.
🐶 Till: The Perfect Little Brown Puppy to Brighten Your Life! 🐾