Selena
Selena was picked up underweight and pregnant from the side of the road in May 2022.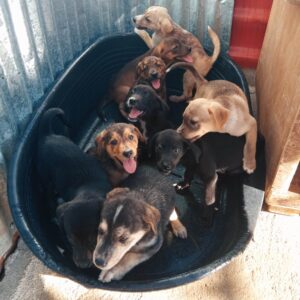 It wasn't visible to the naked eye HOW pregnant she was until two days later she had a surprise in store for us.
Overnight Selena had given birth to nine little babies, her nuts, as we call them.
Selena is a large dog with a wonderful and unique character.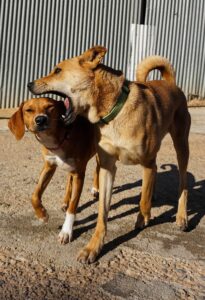 She's a funny girl who is very attached to people and does the cutest little dances when it's time for food or she's excited about something.
She can get a bit overexcited sometimes though and because she's physically strong she needs people capable to handle a dog her size.
Selena's very playful and social with other dogs. Selena can be a quite dominant and needs other dogs to understand and like her physical way of playing.
Selena is the momma of Cashew, Peanut, Chestnut, Hazelnut, Butternut, Brazil, Pistachio, Pecan and Coconut.