Belle (adopted)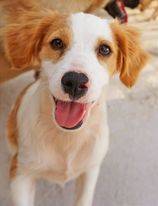 Update 17.7.2022:
"Heute zurück von Kreta aber nicht alleine. Mit dabei war Belle. Belle ist eine coole Socke wie Nicole sagt und ja das ist sie auch. Erst etwas rebelisch im Gate am Flughafen und dann total relaxt im Flieger und später auch im Auto. Später hat Sie mal kurz ihr neues Zuhause aufgemischt. Wir freuen uns die kleine Maus in unserer Familie begrüßen zu dürfen. Ich bin mir mir sicher wenn wir als Einlaufmusik "Enter Sandman" gespielt hätten wäre Sie erhobenen Hauptes einmaschiert. Keep on Rocking sweet Belle.
Danke an Liz für deinen unermüdlichen Einsatz und natürlich an alle andere auch und danke dafür das Ihr so etwas möglich macht.
"
Update 29.6.2022:
Belle is playing with her classmates the whole time.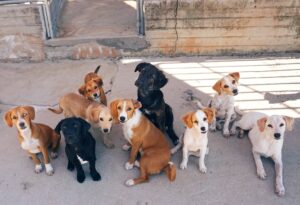 Her story:
Belle, a chamring, cute girl, was born, in February 2022, and is sister of Dixon, Dale, Zefi, Anna, Paige, Bryony and Elsa.