Ronika (adopted)
Update 16.06.2022:
now Ronja:  https://www.hundeheim-karlsruhe.de/index.php/ausbildung/2012-09-08-10-22-12?layout=edit&id=1794
Her story:
Ronika (once called in foster Aurora) was fostered by Steve in her first delicate weeks. She was born in December 2021.
Though Ronika is extremely sweet, she has a handicap: one eye is half-closed but it seems to be working! And she is black. Luckily she doesn't know that that might deminish her chances of being adopted! At the moment she spends her time happiliy playing with the other pups.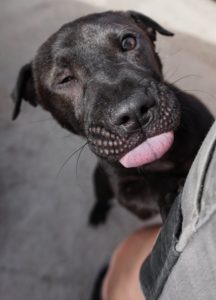 See her first weeks in foster care here on facebook:   here  and   here!
Her story:
Update 20.3.2022:
Steve tells us: Time to start making Aurora famous. Perhaps as famous as Aria. Her eye is responding well to treatment and not weeping now. In all other respects she seems perfectly healthy. And most important is she still has a yummy puppy belly.
Her story:
This puppy was literally dumped on us yesterday. Literally.
A woman came to the shelter demanding, insisting and crying that she is leaving it to us and we have no options.
And she left.
The pup needs to see a vet TODAY.
There is a problem with one of its eyes and we don't wanna waste time and lose it. Is there someone who can drive this Pup to the vet today? Please let me know ASAP.