Gisele (adopted)
Update 1.6.2022:
Hi Liz, Giselle is at home with her brother Bok and I think both are happy
thank you for all
Update 4.5.2022:
Gisele is a cute girl and was born in May 2015.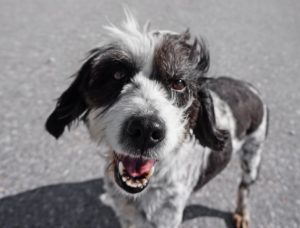 Update 18.2.2022:
We've used the term "too cool for school" many times, but Gisele below, with her punk rock haircut, really takes the cake.
That girl is too cool for school.
Available for adoption to the perfect home
(The Fonz in the background bodyguarding
)
She came to the shelter together with Toula and Bok  because her former owner wasn´t able to take care of them anymore.
Gisele is just the sweetest girl. She is simply adorable.
She loves people, especially when they have some treats to share, and she´s social with other dogs.
Gisele is the perfect family dog.
Being about seven years old she´s not a youngster anymore, but she´s still got some spunk in her.