Eros (adopted)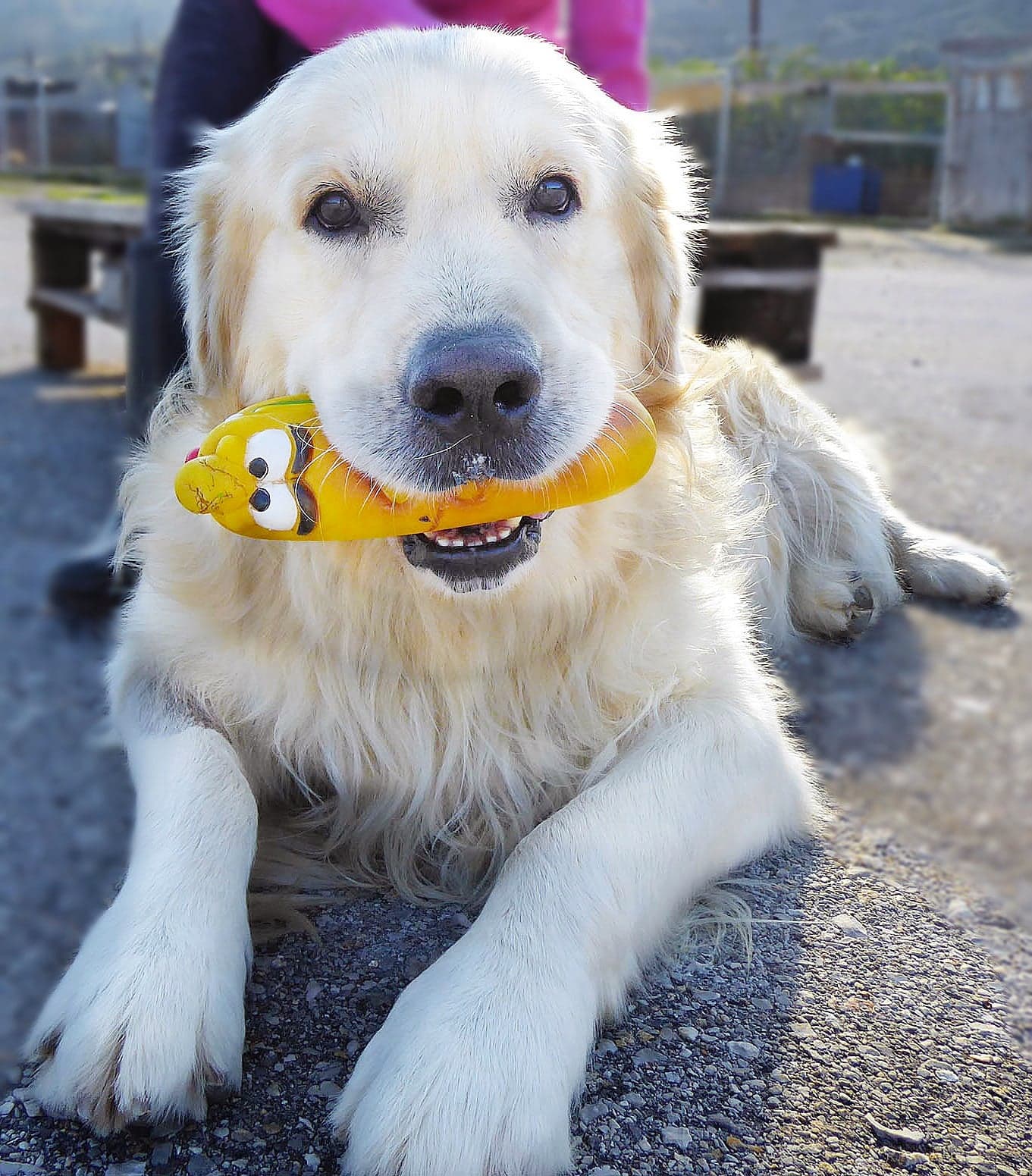 Update 1.12.2021:
Our Golden Retriever, Eros, whom was saved from being put down from
The Souda Shelter Project
because he bit his owner of FIVE YEARS.Eros is now ready for adoption and will go only to a serious candidate.
Eros is six years of age.
Below is the translation of what my analysis of Eros' behavior and needs are.
This dog is a Golden Retriever with every aspect of the definition of a Golden.
He had an issue with aggression which arose after FIVE YEARS of age towards his owner who had him from a pup which means that for sure there was mistake in the handling of the animal with food and play.
This dog came to live with me from April and has never growled at me once.
He is great with unfamiliar faces, he does not have separation anxiety, he is good with males, females, with humans.
With this animal the number one thing I wanted to do was gain his trust which meant I never took food from his mouth which was the cause of his defense, I never took toys from his mouth.
He has learned and respects both his human and his food, he sits before being fed. He drops his toy in order for me to pick it up. He shows no signs of aggression but he needs to know himself that he can trust and that no one will harm him.
He does not bark at unfamiliar faces, he loves cuddles from my mom, from my friend. He does not sit on furniture. He does not bark.
It was just a mistake in handling that caused him to bite which we have rectified.
Just that it is very important that we give him space to gain trust. This does not mean that he will bite us until he gains trust, it means that since we cannot communicate with words we must show him that he has nothing to fear and that no one will do bad to him or pressure him. He has so much love and so many wonderful things to offer !! Give him a chance
Update 25.10.2021:
Eros came to us because after five years of living with his owners, he bit one of them. He also bit again another person. Both faults of the human but still, unacceptable.
His owners were going to put him down but the doctor called us and asked if we would take him on. Of course we would considering we work with wonderful trainers.
Μαρία Θεοδωράκη introduced herself to me last year.
From then she has helped the shelter absolutely NO CHARGE by taking animals home and keeping them with her for personal training.
Eros she has had for months.
She has taken him everywhere she goes.
Right now he is living in Athens.
Eros does not bite.
Eros no longer has triggers.
Eros is a good dog.
He always was just that he had issues.
Eros is ready for a home.
He is a pure breed Golden Retriever, almost six years of age.
He gets along wonderfully with other dogs and humans.
We will be very strict on the choice of his home.
We will also insist on training, for the human of course.
Adopt Eros!
If in the Athens area and are looking for a trainer, Maria is highly recommended from us.
Thank you Maria
Those interested in Eros, please read Maria's comment below.
Maria said: Thank you 
Elizabeth
Iliakis
 for your trust!! Eros had possession issues with food and toys,that we have worked on and now he doesn't feel the need to defend his toys or food. The key is trust and right training
https://www.facebook.com/elizabeth.iliakis/videos/10223580532677019