Reino (adopted)
Update:
Reino ενημέρωση!
Τα πάει πολύ καλά στο foster σπίτι του. Δεν είχαμε την ευκαιρία να του βρούμε το τελικό του προορισμό ακόμα λόγο του Covid και τα λίγα άτομα που πραγματικά θέλαν να τον υιοθετήσουν. Όλα είναι πολύ εντάξει όμως, οπως μπορείτε να δείτε. Έχει την Winnie και τον Hari, πάει χιλιόμετρα βόλτα την ημέρα, παίζει και του επιτρέπεται να κοιμάται στο κρεβάτι του Hari.
Η ημερομηνία του δικαστηρίου για την υπόθεσή του έχει προγραμματιστεί για τις 11 Δεκεμβρίου.
Εάν ενδιαφέρεστε να υιοθετήσετε το Reino, επισκεφθείτε τη διεύθυνση
www.soudashelter.org
και κατεβάστε την εφαρμογή υιοθεσίας.
Σας ευχαριστούμε Χάρι και Γουίνι για την καλοσύνη, την αγάπη και την υπομονή σας
Reino update!
He is doing very well in his foster home. We have not had a chance to rehome him between Covid and the few who actually wanted to adopt him. This is all OK. As you can see he's OK. He's got Winnie and Hari and he's allowed to sleep in the bed.
For certain life is a million times better now.
If you are interested in adopting Reino please visit
www.soudashelter.org
and download the adoption application.
The court date for his case is scheduled for December 11th.
Thank you
Hari
and Winnie for your kindness, love and patience
My name is Reino, after my savior.
Το όνομά μου είναι Reino, Ρέϊνο από το όνομα του σωτήρα μου.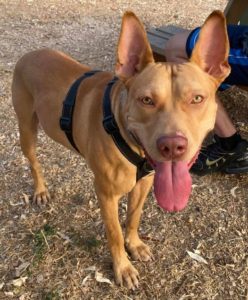 Please have patience while we review the applications to find the best fit for Reino (a hyperactive 30 plus kilos dog)! Perfection takes time! We want to make sure Reino is 100% healthy and to be assessed by a trainer before he is adopted!
His story:
Winnie is the boss! Puppy is still learning to respect his elders. Lol.

Julkaissut Hari Maronikolakis Torstaina 8. lokakuuta 2020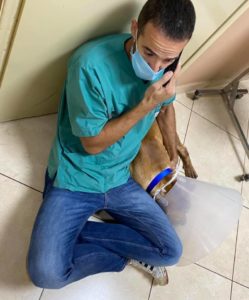 Dr. Kostis Terezakis with the handsome boy who experienced abuse at its worst.
Dr. Kostis, when asked what our bill was told us we did not owe anything.
Thank you
YOU COULD NOT MAKE THIS UP.
His owner hung his dog up by a rope and decided to castrate it by HIMSELF WITH A CUTTING SHEARS.
Reinhold flew in yesterday and was here to help at the Souda Shelter Project. He went to the Roadhouse in Akrotiri to see old friends when he heard a dog cry. The first time he heard it he didn't make anything out of it…the THIRD time he knew something was wrong.
He peeked his head over the fence to see the horrid sight.
He screamed, the man stopped, untied the dog, threw him in the trunk and with Reinhold following they went to the nearest vet.
The owner threw the dog on the table and said he will not stay because he does not want to be arrested.
We've gone to the police station and pressed charges.
The police have gone to his house but he seems to have disappeared. They have 48 hours to find him and arrest him.