Robby (adopted)
Update:
My name is Robby.  At the shelter they think I was born in 2015.  The vet thinks 2013. And I forgot…
My owner was just diagnosed with cancer.
She cannot have me anymore but Elizabeth feels that this is the best thing that has happened to me yet.
You see I don't go for walks, I've been tied here my whole life, I have had no treatment of any kind my whole life like vaccinations, wormer,etc.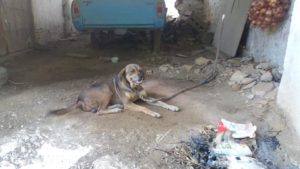 Maybe you'd like to take me in. Maybe you'd like to adopt me and show me how dogs should be treated.
I am very friendly.
Elizabeth will get me ready.
She will have me vaccinated, give me anti-parasite medicine, get my bloodwork done and give you the thumbs up to take me home.
C'mon and take me home!
Let's discover life together.
Be a part of Elizabeth's project.
The Souda Shelter Project.
Adopt. Donate. Share.
Play your own part in making a difference in a living being's life, mine!