Hoshi (or Hoshiko) (adopted)
Update:
My Hoshi, my Hoshiko, my Hoshikouna Barbouna is now someone else's baby
He's been adopted!!!
The best dog on the planet has been adopted!!!
Alert the presses!!!
He lives right here in Chania town so if you see him on the street let him know what a celebrity he is and say hello to him.
He will be so happy you did!
—
Who ever adopts Hoshi will be the luckiest family on the planet…and I've NEVER said that about a dog…ever.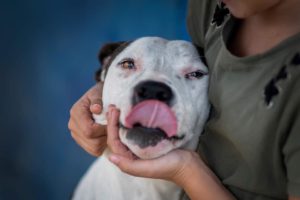 Hoshi is a friendly, young pitbull male found in the harbour. He is about 1 year (born 2018) and white, black with a bit of brown. BEST FAMILY DOG I HAVE READY FOR A HOME. ❤️HOSHIKO❤️
Hoshi and Svet, April 2020
His story:
On the video Elisabeth introduces Hoshi, on the second it shows him on the day he was found.
Movies:
https://www.facebook.com/groups/638772982948839/permalink/1455909294568533/
https://www.facebook.com/groups/638772982948839/permalink/1451184915040971/