Sasha (adopted)
Update
February 2021
Our Sasha in Holland (on the right) and her look a like friend Mickey (on the left).
One doggie is a Poodle/Maltese, store bought beauty.
The other doggie is a rescue beauty.
The difference is very hard to distinguish.
This photo makes me smile!
Adopt. Donate. Share.
December 2020:
Of course you can't recognize her.
It's Sasha, our 10plus year old senior, getting younger by the day in Holland

You're awesome Renate!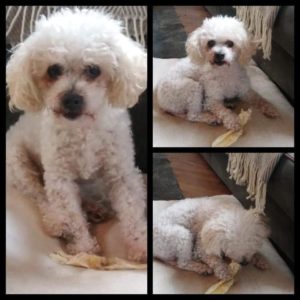 October 2020:
Who said an animal can't learn to love?
Sasha, after ten years of abuse, was never comfortable around humans.
Today, after nine days in her new home, Sasha is on her owner's lap begging for cuddles.
This photo is the reason we carry on.
The Souda Shelter Project.
Ask us about our seniors


Ποιος είπε ότι ένα ζώο δεν μπορεί να μάθει να αγαπά;
Η Σάσα, μετά από δέκα χρόνια κακοποίησης, δεν ήταν ποτέ άνετη στους ανθρώπους.
Σήμερα, μετά από εννέα ημέρες στο νέο της σπίτι, η Σάσα βρίσκεται στην αγκαλιά του ιδιοκτήτη της ζητώντας αγκαλιές.
Αυτή η φωτογραφία είναι ο λόγος που συνεχίζουμε.
The Souda Shelter Project.
Ρωτήστε μας για τα γεροντάκια μας
August 2020:
*big sigh*….Sasha.
Big story. Lots of years of abuse. Fell into our arms through a great tragedy. Lots of patience and trials and love. Eleven year old who went from grumpy, reserved and defensive to happy, totally socialized, still sometimes grumpy (us older ladies are allowed) with a spring in her step, loving the young gents.
Why can I not form a complete sentence when speaking of her? Because I'm so dog gone EXCITED!!
Because today she leaves to go to her new home in Holland and I'm OVER THE MOON. Her new family, young boyfriend included, can't wait to have her and all is perfect!
She has got a third chapter to her life and this one will be the best of all!
We love you, you kooky little old lady and wish you some more years in life filled with peace and love! Well deserved!
Her story:
September 2020:
Sasha! Folks, this is Sasha! Believe it or not, its a little over ONE YEAR and we can finally handle her!
She is ready for a home and there is someone interested.
Eleven year old Sasha with ten years of abuse.
Our girl is ready to start her new chapter.
This is what it is all about.
Be a part of our project!
Adopt. Donate. Share.
The Souda Shelter Project
Update May 2020
It's getting hot on Crete – so Sasha had to get rid of her hair!
❤️Sasasasha❤️ our Sasha is so darn cute!

Julkaissut Elizabeth Iliakis Sunnuntaina 17. toukokuuta 2020
Update February 2020
Seniors mean the world to us. You've met Sasha, she is our ten year old poodle who was abused for the greater part of her life. We have had her over seven months in our care, first in foster and then in the shelter. She would NOT approach people. She did NOT allow human touch. She growled and showed teeth. We had accepted this behavior and believed that because of this she would live the rest of her life out with us.
Till yesterday.
Yesterday she allowed Jamie to pick her up, she allowed Tatyana to stroke her. A new chapter has begun in her senior life and we cannot explain in words how touched we are. Regardless of her age, a new life has begun for her. She has opened herself up to us, to humans.
Please consider her. Please be the person to show her the pleasures of life, the happiness, the warmth and the love. Before her chapter closes, please take her home.
Be a part of the project.
Adopt a senior today.
The Souda Shelter Project❤️
Update October 2019:
OUR SASHA, ten year old poodle who had been abused all of her life and completely anti social with animals and people is really digging shelter life!!!
I was saying that she must leave the shelter and that we could not provide her with any more help…HA! She is making leaps and bounds.
Watch her in the video below as she nonchalantly wanders outside of her pen and comes into contact with the other animals WITHOUT being defensive.
She is calm and cool and enjoying the day.
Calm enough to poop in public!
She keeps making progress but in her new home she would need a garden where she could move freely on her own.
Her story:
A couple of weeks back we removed Sasha when from an abandoned home. Her owner was an old woman who passed away who had abused her on a daily basis.
She was later taken care of by a lovely animal activist who also passed.
Sasha was severely anti social and aggressive when we picked her up.
Since then she has learned to live with but does not like cats and dogs and still she does not accept human touch or company. She shows her teeth and growls and will bite if cornered.
We had the opportunity to bring her to the vet to get that matted, filthy coat off of her back, maybe that would help. It has not.
Sasha must leave her foster home and go to another foster where they can offer her more intense interaction. She needs someone who is home all day in order to help rehabilitate her.
Sasha can go to a foster in another country. She is vaccinated and ready to travel. She is approximately ten years old. Her bloodwork came back good. Also she is not Leishmania positive. She is a poodle, small 4.4 kg.
Please consider helping such an animal. She deserves to know how special she is and how nice it is to have a human who loves you. It's never too late to learn this.
Sasha is a xoxDOG which means he is up for lifelong foster and there is no adoptionfee.
Read more here.