Ernie (adopted)
Gender: Male
Birthday: June 2014
Breed: Spaniel mix
Neutered: Yes
Color: Tri color
Size: Medium
December 2020: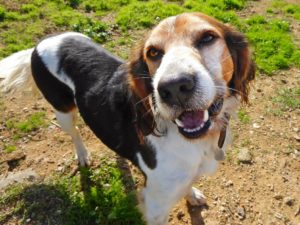 Description: One of the most handsome dogs in the shelter, Ernie really wants to have an owner to love him and to keep him occupied. Very friendly with people, he always welcomes you into his pen. He's an intelligent dog who we think would love to learn.
Sadly, he's starting to circle his pen as he is bored with shelter life. In a home environment we think he would do so much better.
He was hit by a car and operated on. His pelvis was broken and the one leg that was dislocated. The top of the femur bone was removed, the leg created a fake arthrosis and one leg is slightly shorter than the other.
Ernie – a very handsome, bored boy!