Bado (adopted)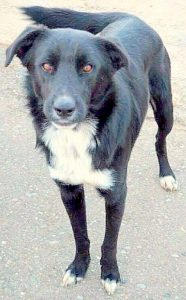 Update: Bado is now adopted and lives with Butter !
In his new home!
His story:
Gender: Male
Birthday: June 2015
Breed: Mix
Castrated:  Yes
Color: Black and white
Size: Medium
Description: Bado is one of the five brothers in the shelter, along with Baron, Marlon, Igor and Bado
They grew up together with a rough start to the first few years but they have come such a long way since then. 
He's lively and energetic at times, Badoo usually shows a calm behaviour. No other dog in the shelter has perfected the art of jumping to quite the same extent as Badoo.
Does his future lie in agility and dog park work?
We would love to know once he start's his new life with you.