Artie (adopted)
Update:
His family writes: Artie has now been with us for a week and we thought and knew you all Souda Shelter people and friends would like to see how the old Sir is doing.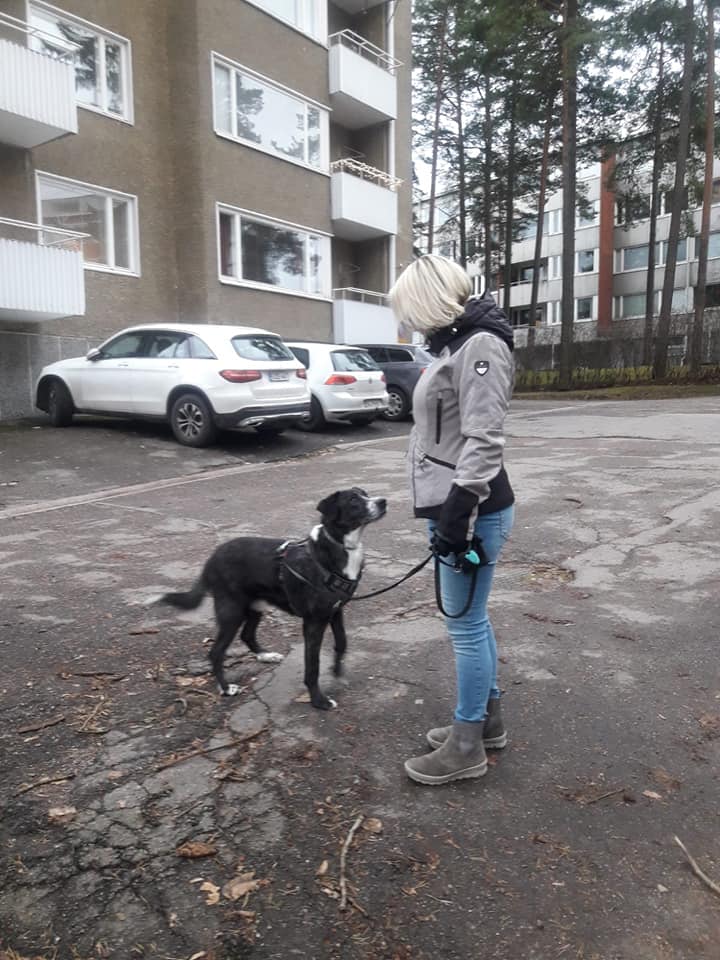 Artie is smart, curious, quick learner and funny, as you already know. First couple of days Artie mostly slept and barely ate at all. He wanted to be very close when we were home and was quite wild and a bit challenging to handle on walks.
But he is an amazing oldie. He has gotten used to cars, no barking to them anymore, also other dogs or strange people quite rarely seem to disturb him during walks anymore as much as before even though he is sometimes very interested in them, he has learned to walk in leash unbelievably well, he is not scared of stairs, those slippery weird things he has to climb to get home anymore, but he is still trying to figure out who an earth is looking back from mirror…
Artie still wants to be close and get a lot lot lot of hugs of course, but he has started to eat well and be awake more. He is enjoying his life. Walking and sniffing around in forest is the best. And we adore him. "Artie has made our family complete" said my older daughter. Thank you for my sister for taking us to Souda Shelter and meeting Artie in the first place.
POSITION AVAILABLE
The Souda Shelter Project is searching for a bright, funny, witty individual for the position Director of Public Relations.
You will have big shoes to fill.
Our very own Artie Chomsky has relocated to Finland.
That's right folks, Artie Chomsky has left the building.
After years of keeping the operations running smoothly here in Greece, he has decided to retire and spend the rest of his days with a beautiful family in Finland.
Good luck Artie, you were epic !
His story:
Birthday: January 2012
Breed: Mix
Castrated: Yes
Color: Blue merle
Size: Large
Description: Artie is one of the biggest personalities of the shelter. He's loved by all the regular volunteers and is truly a funny character. He's a fabulous, funny and intelligent dog. Artie has a great sense of humor and loves to play and he misses having a special best friend.Ever heard of anyone talking about that special dog they cannot forget? Well that's Artie!
He is the clown of the shelter. To see some of Artie's antics click here
BIO:
Artie Chomski
Managing Director of the Souda Shelter Project
Age: Seven
Accomplishments: Artie has come a long way. He was brought, half dead to the shelter with the later stages of Leishmania (You can find more information here. Please, give our leishmania dogs a chance!) eating away at him. He was no more than twelve kilo, just bone.
He has not only put on weight, his character is such that he is now running the shelter, telling both animals and staff what to do.
Mastermind at manipulation Artie can conquer any heart or home.
You want this gem on your team!
Consider Artie…there is truly no one else like him!
Artie needs an experienced handler and needs a bit of education.
---