Negrita (adopted)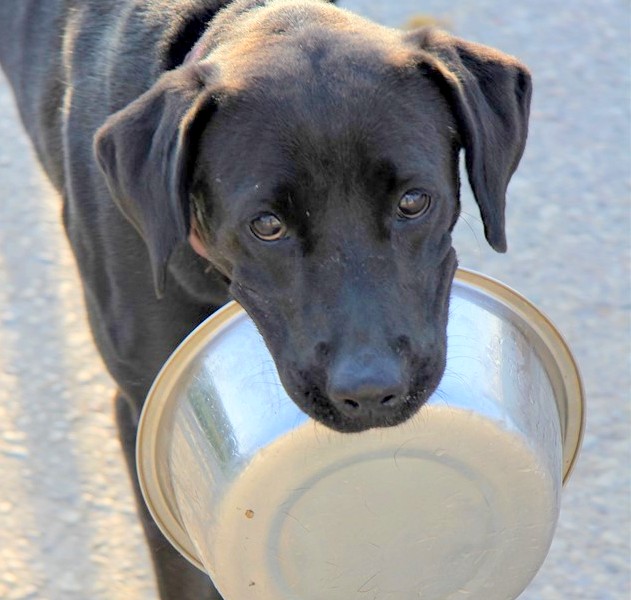 Update:
Negrita was adopted!!!
If this is not one of THE MOST REWARDING PHOTOS OF THE YEAR!
This photo belongs to Litsa Metaxa, it belongs to Νίκος Παλαιολογόπουλος, it belongs to Jamie Morley, it belongs to Amelie Rosenherz, it belongs to Tatyana Kaminari, to Maria Nyborg, to Fanis Alygizakis, to Μαριλένα Παυλάκη Καποκάκη, Kiia Timoskainen, Ifigenia Chrt, Dimitris Karkanorachakis, to Vepkhia Xucishvili and to all of our volunteers and friends who visit.

This is Negrita
and she is 
h
o
m
e
.

Thank you to each and everyone of you for giving her love.
Thank you to each and everyone of you for throwing that ball.
Thank you to each and everyone of you for keeping this girl the same happy as the day she realized we loved her.
Thank you
Her story:
Gender:  Female
Birthday: February 2015
Breed:  Labrador Mix
Castrated:  Yes
Color:  Black
Size:  Large
Description:  Negrita is a very loving and gentle creature. She yearns for human hands. She was left outside about a year-and-a-half ago (summer 2015) bleeding from the nose, skin and bones. She was diagnosed with Leishmania.  After almost a year of therapy Negrita is doing wonderfully. She is at her proper weight and in High Spirits.
She's looking for a family that loves to be active and be outdoors and is ready to start her new life with you. Be a part of the project. Open your home to a girl like Negrita who will show you her gratitude every waking day of her life.
She is Leishmania positive. You can find more information here. Please, give our leishmania dogs a chance!