Fiona
(Adopted)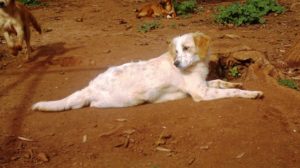 Gender: Female
Birthday: August 2012
Breed: Spaniel mix
Castrated: Yes
Color: Beige and white
Size: Medium

Description: This is our Fiona. Fiona was scheduled to leave last summer and got as far as on the plane. Then the traffic controllers decided to strike and we had to take her off the plane. That was the last she saw of the airport. One year later and she is still at the shelter.
She is a wonderful little girl , neutered and friendly with all animals and people. She is a small to medium sized dog, We have estimated her at 4 years old. She is approximately 36 centimeters high from floor to shoulder.
Today we pampered her with a couple of hours good brushing . How about giving her a second chance and putting her back on that plane? Make this little girl's dream come true.