Leonardo
Name: Leonardo
Date of Birth:  2015
male
Neutered: yes
Tatyana 's Cat House
Leonardo.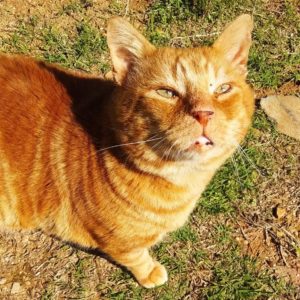 He is FIV positive and is in foster.
Approximately he is six years old (DOB 2015). Male, castrated, ginger colour.
Used to live in the streets till one day he came to my house injured.
In a during of the recovery Leonardo used to be next to me, asking for attention.
This winter he got heavy cat flu, and I had to foster him indoor for a month.
He is very good inside the house, using king size cat litter box.
Now, when weather is nice, he likes to spend time outside of the house, taking naps under the tree.
He is not asking a lot.
Leonardo needs warm house with the safe garden, calm environment, some food and love.
It's not possible for him to survive in the streets, I realized that this winter.
Leonardo is king-size cat, too fat.
He is 7,5kg and he needs to reduce the weight.
He needs a time to start to trust to the person/family, he is shy from the beginning of relationship.
https://www.facebook.com/100022925682752/posts/904873960286785/?app=fbl
https://www.facebook.com/100022925682752/posts/933015744139273/?app=fbl