Princess Belle (adopted)
Name: Princess Belle
Date of Birth: 2019
female
Neutered: yes
Cat House: Tatyana's  Cats
Princess Belle is long hair, with the fluffy tale and she has "baby" face. White/ light brown colour.
Her story started from the moment that she came to my garden with two little kitties in a bad shape.
She is a very friendly cat, but she needs a time to know person better before she is going to trust him/her.
She is very good with the other animals if animals are not aggressive. She has a very good friend Leonardo senior cat. Seems, that she is disowned.
She is using cat litter, but she is still feels shy at home.
I had no opportunity to socialize her indoor properly because of my other foster animals. She stayed indoor after neutering for a week, and she is coming inside home to eat.
She needs a home with a safe garden to take some walks.
She is calm and not dominant.
She is waiting for the other cats to eat first, and if no food is remaining she staying hungry.
There is no way for her to survive in the streets.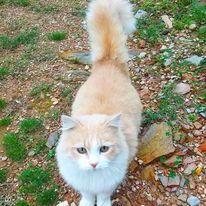 For  facebook post click here (first post) and here (second post).